If a hydraulic hose fails, the unscheduled downtime can be crippling to marina and boatyard operations. To prevent such a scenario from happening, it is important for service managers and launch operators to be able to recognize any potential problems with their travel hoist and keep them running smoothly with a preventative maintenance plan or regularly scheduled parts replacements.  Pay especially close attention to the hydraulic lines on the top of the machines.  These can rupture, or experience pin-hole leaks sprinkling hydraulic fluid onto customers' boats.
Visual inspection is important, be on the lookout for rusting, cracking and faded hoses.  Cracks in the suction lines can cause a drop in flow and pressure through the pump and cause actuator failure.
A yearly staggered rotation of older hoses should become established to ensure that hoses are always in good working order.  As fixed steel or stainless steel lines are concerned, attention should drawn to the unions and adapters as well as areas behind the wooden clamps.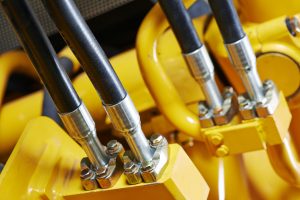 Hydraulic Hose Problems
Hydraulic hose systems can be complex. There are several common problems that impact the longevity of a hydraulic hose. We've come up with a few warning signs of what to look for when it is time to replace your hydraulic hoses.
Breakdown – Hydraulic hoses, particularly those used in travel lifts, need to be able to handle the harshest of conditions. Continuous exposure to the sun can cause hydraulic hoses to crack and dry out over time. Having a long-term preventative maintenance plan in place can reduce some of the wear and tear on your hoses.
Abrasion – More often than not, abrasion of your hydraulic hoses is unavoidable. Typically caused by hoses rubbing together or against metal or other machinery in the environment, leaving wires exposed. Once this occurs, it is imperative to replace the hydraulic hoses.
Corrosion – With the constant exposure to the seawater, corrosion of hydraulic hose fittings is inevitable. It does not happen overnight, when corrosion finally takes hold, your hoses will eventually need to be replaced.
Having a preventative maintenance plan in place is easily the best way to extend the life of your hydraulic hoses. However, when you begin to recognize some of the signs mentioned above you know it is time to start thinking about hydraulic hose replacement.
Hydraulic Hose Replacement
When a hydraulic hose fails, it is crucial to have a plan in place to limit any unscheduled downtime, but replacing them does not have to be a pain. With haul out season in full swing, you can trust our experienced team of technicians to assist you in keeping your travel lift up and running when you need it most. If you have any questions or for more information on hydraulic hose replacement or any other preventative maintenance for your travel lift, contact us or give us a call at 631-472-3030.